Express yourself
Explore your inner world
Expand your creative self
Experience Greece
Expressive writing retreats in Greece are designed by psychologist and author Dimitra Didangelou to help people seeking to enrich their self-connection. Her practical and experimental approach through expressive and therapeutic writing encourages life reflection, self-exploration and creative expansion based on writing techniques.
The workshops are useful for all individuals, while the practice of expressive writing can particularly benefit those seeking to gain insight into their inner lives, increase self-awareness, listen to their inner voice and connect with their full creative potential.
Here are some activities you can expect from your expressive writing retreat:
Daily workshops on expressive writing in natural landscapes
One-on-one sessions with Dimitra
Meaningful structured conversations on subjects inspired by the ancient Greek philosophy
Excursions to the astonishing beaches, yoga, acupuncture, massages, horse riding, swimming, hiking available onsite
Dinners with delicious local dishes and wine
The next retreat will take place in Pelion, Greece from August 29th to September 8th 2019. With places limited to 12 participants, it's a good idea to secure your place early!
SEE MORE HERE
What Is Expressive Writing?
The more you know about yourself, the richer your inner life becomes. Through specific writing tools and methods developed by experts (Dr. Pennebaker, Adams, Progoff, Thompson etc), expressive writing helps us to get in touch with our feelings and thoughts. Expressing the feelings and thoughts through writing allows us to tune into our inner life and enriches our ability to self-inspire. Workshops are designed to help us identify where our blockages stem from and give us the strength to overcome them.
The practice of expressive writing focuses entirely on tapping into our inner selves, without any concern for narrative structure or grammar rules. There is no right or wrong answer. Expressive writing can be practiced by anyone, at any stage of their life.
For more information, read our FAQ about Expressive Writing.
Here is what some of the past participants have to say about Dimitra's workshops:
The exercises opened my eyes to a new way of thinking about my work, and myself. From the first session, I felt I was already a step forward in discovering newfound enjoyment and confidence in my writing. The workshops were so practical and flexible that I could adapt them to my specific needs.
S.B., Prague 
Dimitra provided me with deeply insightful advice on the best way to proceed with the writing of a deeply personal memoir and on the struggles that come with it.
S.A., Berlin
I hugely enjoyed the one-on-one session with Dimitra. She is a great listener, and knows how to ask all the right questions to get you thinking about your own writing process. I finished the session feeling very motivated and with new insights and perspectives relating to present and future work. Perfect!
M.H., Berlin
Freedom, revelation, catharsis. I felt like I got the pen down to my soul and then I imprinted it onto paper. And then, I faced the truth that finally was inside me. I saw, on the paper, me, in my most authentic form.
Th. K., Cyprus
Location
The retreat will take place in Pelion peninsula, one of Greece's most undiscovered areas, homeland of mythic Chiron Centaurus, tutor of many ancient Greek heroes and healer. Pelion is in the Greek mainland, which is home to some of the most beautiful beaches, forests and hiking trails in Greece. You will be accommodated in Pinakates, a hidden gem in the mountainous hills, village of less than 200 inhabitants, one of whom is Dimitra. We will organise your trip from the airport to the village, where you will stay in the traditional stone houses typical of the region. The place is surrounded by forests paved with hiking trails and in 20' driving distance there are beaches with crystal clear water and traditional fishing villages. Workshops will take place in a variety of spectacular natural scenery.
Find out more about Pelion here.

About the Retreat's Host
Dimitra Didangelou  is a psychologist MSc, science journalist and author. After filling thousands of pages for personal and professional purposes, she quickly discovered the power of the written word. Her specialization is therapeutic and expressive writing, helping people gain insight into their lives, listen to their inner voice and enhance their creativity.
Alongside founding and editing a web-magazine that explores psychology, she is the founder of "Expressing MySelf", an Institute which offers workshops promoting conscious and creative living.
She loves writing fiction based on real stories because she believes that the unbelievable stories life brings in surpass even the most powerful imagination.
Her training includes Advanced Study in Therapeutic Writing (The Center for Journal Writing in Denver, CO, USA), an MSc in Psychology and the Mass Media, a BA in Psychology and a Certificate in Philosophical Counseling and Psychotherapy.
Dimitra is a published novelist and her short stories have been distinguished in many writing contests.
See Dimitra's TED speech here
Learn more about Dimitra here.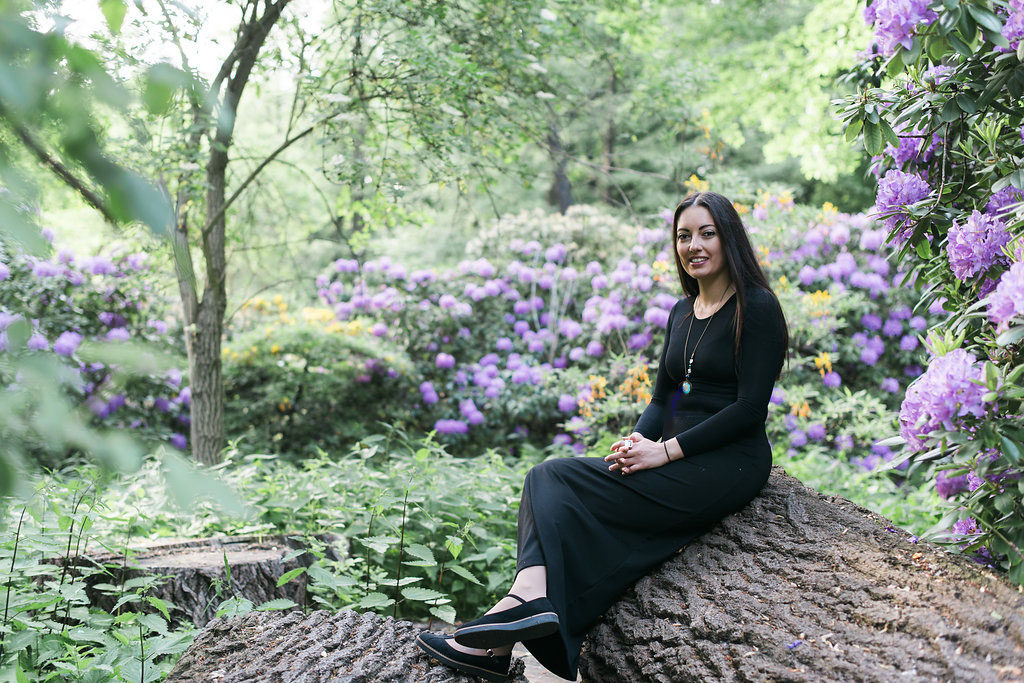 Other Retreats
Discover other retreats in Greece organised by Expressing Myself Institute below:
Gratitude Retreat
Find Your Muse
… or get in touch to discuss a custom-designed programme.
Ask for more information sending an email at
dimitra@expressingmyself.org
Traveling Workshops
Can't make it to Greece but still interested in these workshops? You can also get in touch to organise a workshop in your home country!
Dimitra has traveled the world with her expressive writing workshops, from Cyprus to Berlin and beyond. To discuss organising a workshop in your home country, contact her to discuss the possibility by sending an email at
dimitra@expressingmyself.org